Augmenting Technology
Opaque Space is developing a range of technologies and researching new methods of how we deploy technology to solve traditional problems. From leveraging our ability to draw on expert plugin development to unparalleled access to prototypical technology, Opaque Space offers our partners the ability to stay ahead of the curve and look beyond the horizon.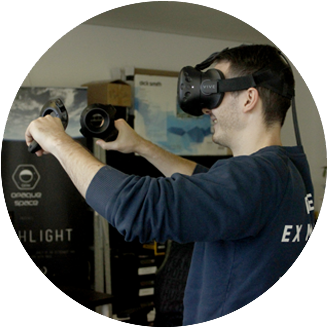 Developing solutions to track the attention of a user in Virtual Reality using hardware packages, such as Galvanic Skin Response and Gaze Trackers.
Client Case Study: Opaque Space is working with Industry Partners and Stakeholders on Developing Learning Management and Human Performance tools for Biometric Feedback in VR Training.
Vertical Slice and Prototyping
Enabling partners to commission the development of interactive prototypes or technological verticals to demonstrate hardware, software or content ideas for internal or external clients.
Client Case Study: Opaque Space is working with an international hardware provider to develop demonstration high-fidelity content that showcases the power of the platform, enabling the company to secure sales and inroads into museums, aerospace, defense and entertainment industries.
Unreal Engine Consultation
Providing Senior level engine support in engineering, technical art and design consultation, enabling partners to discover solutions or accurately plan their projects.
Client Case Study: Opaque Space provides real-time support and consultation advice to various agencies, studios and partners developing Unreal Engine projects for both games and enterprise. We can work in both Blueprint templates as well as custom engine builds.
Hardware Analysis Reports
Drafting assessments of existing hardware solutions, ranging from backpack PCs to hand-tracking methods, to inform partners of the applications right for their projects.
Client Case Study: Opaque Space performed hardware analysis and capability testing for backpack PC solutions for Public Space Agencies, providing both profiling analytics as well as assessment recommendations.
Offering the ability for partner studios and laboratories to engage in development services for assets, systems or content that interfaces with existing platforms.
Client Case Study: Opaque Space is working with partners to develop specific assets and functions that directly interface with existing Unreal Engine projects, enabling their teams to do more, quicker, with less overhead.
Bespoke Technology Solutions
Augmenting existing hardware and software packages to develop new applications, enabling studios and laboratories to push their inventories to create novel solutions to unconventional problems.
Client Case Study: Opaque Space has collaborated with Public Space Agencies to develop a new method of utilizing the Kinect 2.0 to create depth-sensing Mixed-Reality camera solutions for demonstration purposes.